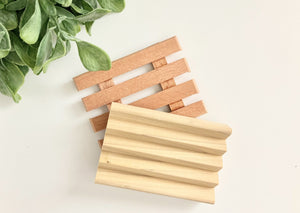 Handcrafted Soap Dish | Artisan Soap Accessory
These wooden soap dishes are a must-have for your favorite KechiBathCo soap! Choose from the boardwalk style soap dishes or the Slatted-style soap dish.
Boardwalk-style dishes are made from Poplar and Beechwood, both of which are heavy hardwoods, fast growing and sustainable.  Both grow in abundance here in North America and perform exceptionally well with water and moisture exposure. 
Also pictured is the lightweight Spanish Cedar Slatted-Style soap dish , which is made of aromatic cedar wood.  Spanish cedar is an incredibly water resistant, rot and mildew resistant wood that has a wonderful cedar aroma.