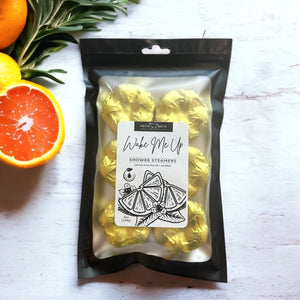 Wake Me Up Shower Steamers™ 6pk | Lemon Essential Oil Aromatherapy Shower Steamers
Our Wake Me Up Shower Steamers are a refreshing blend of lemon essential oils and menthol (1.3oz each). These individually wrapped and labeled shower bombs release amazing aromatherapy into the steam.
This listing is for 1- 6pack
Directions for Safe Use: Run hot/warm shower for a minute or two before use. Unwrap and activate shower steamer with water, and place in the shower away from the direct stream of water so that it will just be wet from the bottom.  These are crafted for shower use only, do not use these like bath bombs. They contain menthol crystals which could irritate sensitive skin.
Makes A Great Gift
These shower steamers make a great gift. They smell refreshing and provide relief for migraines and sinus problems.