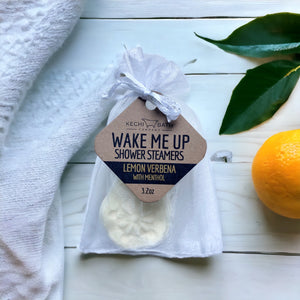 WAKE ME UP | Lemon Verbena Aromatherapy Shower Steamers with Menthol
This listing is for one bag of Wake Me Up Shower Steamers, containing 2 wrapped shower steamers in a beautiful organza bag.  These shower bombs are made to fizz and release amazing essential oils and fragrance into the air. The soothing air can often times help with stress, migraine, and headache relief.  These 2 shower steamers together last for 2-4 showers on average, but most users can get at least one long shower from each shower bomb.
These powerful Shower Bombs come in six scents:
❀ALPINE FROST: bergamot, eucalyptus, thyme, iris, amber, cedarwood.
❀BREATHE: Minty with Eucalyptus menthol.
❀RELAX AWAY: scented like fresh Lavender blooms.
❀WAKE ME UP: Lemony Citrus and Lemon Verbena.
❀RAINY DAY: bergamot, geranium, rain, musk.
❀CITRUS SPLASH: Zesty orange essential oil.
Directions for Safe Use: Run hot/warm shower for a minute or two before use. Unwrap and activate shower steamer with water, and place in the shower away from the direct stream of water so that it will just be wet from the bottom.  These are crafted for shower use only, do not use these like bath bombs. They contain menthol crystals which could irritate sensitive skin.
Great morning shower routine.
Very refreshing to step into the shower, early in the morning, still groggy as you haven't had your coffee yet & voila...you smell the fresh citrus scent of lemon. Great eye opener.
Shower steamers
I love them and so does my granddaughter