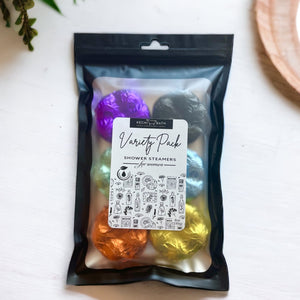 Variety Pack - Curated 6pk Shower Steamers - Aromatherapy Shower Steamers
Curate your OWN CUSTOM BAG of shower steamers! These individually wrapped and labeled shower bombs release amazing aromatherapy into the steam and will make your bathroom feel like a spa. Shower steamers are a great way to add a little aromatherapy to your daily routine and help promote relaxation and stress relief.
These make great gifts for all ages!

*This listing is for 1- 6pack*

Create your 6-pack of shower steamers from all of the scents listed below:

Leave a note of how many of each in the "note to seller " section when ordering! If there are any gaps or out of stock, we will fill the rest of the bag from our best sellers.

These powerful Shower Bombs come in the scents listed below:

SELECT YOUR SCENT:
ESPRESSO: Italian espresso beans.
PUMPKIN SPICE LATTE: Your favorite cozy PSL with vanilla,
espresso, and spiced pumpkin marshmallow.
FARMHOUSE: Apple, sweet orange, clove, and cinnamon.
ARCTIC NIGHT: Eucalyptus, Fir Needle, Thyme, and Mint.
ALL IS CALM: Lavender, Sweet Orange, Ylang Ylang.
GET IT TOGETHER: Grapefruit+ Peppermint Essential Oils
BACKCOUNTRY: Eucalyptus, Fir Needle, Thyme, and Mint.
ALPHA: Sandalwood, lemongrass.
SNICKERDOODLE: Cinnamon Leaf and sugar, creamy vanilla.
SUGAR PLUM FAIRY: tangerine, peach, lemon, cotton candy, and apple.
CANDY CANE: Peppermint essential oil and Vanilla.
CASHMERE: Magnolia, Freesia, Cashmere, and musk.
CHAMPAGNE TOAST: Fizzy Bubbly Peach-Strawberry Champagne.
BEACH BUM: Coconut creme, vanilla, Sandalwood, and musk.
COCONUT LIME: zesty lime, bergamot, and coconut.
PEPPERMINT MOCHA: Espresso, cocoa, and peppermint EO
SWEATER WEATHER: Pine, eucalyptus, green apples and oakmoss.
FARMHOUSE: Cozy mix of Cinnamon Leaf, Mulling Spices, Apple.
PUMPKIN CHAI: fall blend of Pumpkin, warm vanilla, cinnamon leaf+spice.
POSEIDON: bergamot, leather, anise, Lavender, Patchouli.
ALPINE FROST: Peppermint, bergamot, eucalyptus, cedarwood*
BREATHE: Peppermint with Eucalyptus*
RELAX AWAY: Lavender blooms*
WAKE ME UP: Lemony Citrus and Lemon Verbena*
RAINY DAY: bergamot, citrus geranium, musk.
CITRUS SPLASH: Zesty sweet orange essential oil*
VOLCANO: Tropical fusion of pineapple, goji berry, mango.
*=contains menthol

Directions for Safe Use: Unwrap and activate shower steamer with water, and place in the shower on a soap dish or away from the direct stream of water. These are crafted for shower use only, do not use these like bath bombs.

Perfect.
Perfect gift for my wife!
Variety pack
I liked being able to choose the ones I wanted… but to be honest I miss the days when you could just buy the 18 or 32 (was it?)variety pack with out having to do the subscription.