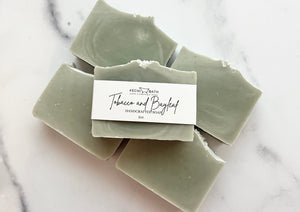 Tobacco & BayLeaf | Artisan Soap
Our handcrafted Tobacco and Bayleaf is an upscale and fresh men's scent - scented with a mix of bay leaf, fir needle, cedarwood, bergamot, and a hint of tobacco - topped with dead sea salt. This best-selling soap is universally appealing to both men and women. This soap boasts a creamy and rich lather with a mild pH.

INGREDIENTS: Saponified oils of coconut oil, olive oil, sustainable palm oil, castor oil, dead sea salt, spinach powder for colorant, mica, and fragrance.

SIZE: 5oz

HOW TO EXTEND THE LIFE OF YOUR SOAP:
1. Place soap in a well-draining dish and keep it dry between uses. Slice your soap bar into smaller chunks and use only one piece at a time until needed.