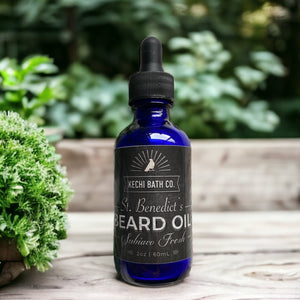 Subiaco Fresh | Barbershop | St. Benedict's Premium Beard Oil | Men's Leave-In Beard Conditioner + Tamer | All-Natural and Vegan | Gift for Him
Scented with a mix of bergamot, cool mint, lavender, green accord, sandalwood, cedarwood, amber, and musk. It smells clean and fresh, just like walking into a barbershop.
Our vegan beard oils are handcrafted with all-natural oils and infused with hair strengthening ingredients.  All beard oils come in a reusable glass dropper bottle for maximum control during dispensing.


| 2 oz |

This luxurious beard oil comes in three scents -

Tobacco & BayLeaf: A fresh mix of cedarwood, bay leaf, bergamot, and a hint of tobacco.

Clear Creek: This alluring masculine scent is sure to be a favorite, with notes of bergamot, French lavender, anise, nutmeg, juniper berry, patchouli, and leather.

Directions:
Apply a few drops of oil into your palms and apply evenly throughout your beard and massage into your skin. Helps to reduce itchy and flaky skin, repair split ends, promote thicker and faster growth and makes your hair soft to the touch.

Ingredients:
Fractionated Coconut Oil, Sweet Almond Oil, Argan Oil, Jojoba Oil, Aloe Extract, Vitamin E, fragrance.

Great fragrances and quick service