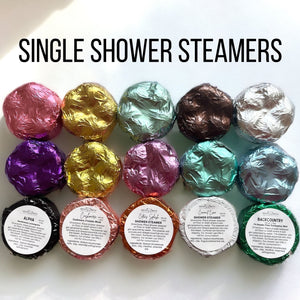 Single Shower Steamers - Aromatherapy Shower Bombs
This listing is for one individually wrapped shower steamer which is individually wrapped and labeled. These are a great way to add a little aromatherapy to your daily routine and promote relaxation.
Shower Bombs make great get well soon gifts, stocking stuffers, party gifts, holiday gifts, shower favors and coworker gifts.

To order, add this listing to your cart, and type in the notes at checkout what scents you'd like.  
These powerful Shower Bombs come in the scents listed below:

ESPRESSO: Roasted Italian espresso beans.
PUMPKIN SPICE LATTE: Your favorite cozy PSL with vanilla, espresso, and spiced pumpkin.
FARMHOUSE: Cozy mix of Cinnamon Leaf, Mulling Spices, Apple.
CASHMERE: Magnolia, Freesia, Cashmere, and musk.
PUMPKIN CHAI: A simmering fall blend of Pumpkin, cinnamon leaf, vanilla, and spice.
CHAMPAGNE TOAST: Fizzy Bubbly Peach-Strawberry Champagne.
BEACH BUM: Coconut creme, vanilla, Sandalwood, and musk.
COCONUT LIME: zesty lime, bergamot, and coconut.
STRAWBERRY FIELDS: Juicy strawberries with a hint of sweet orange.
SWEATER WEATHER: Pine, eucalyptus, green apples and oakmoss.
ARCTIC NIGHT: Eucalyptus, Fir Needle, Thyme, and Mint.
ALL IS CALM: Lavender, Sweet Orange, YlangYlang.
GET IT TOGETHER: Grapefruit+ Peppermint Essential Oils.
BACKCOUNTRY: Eucalyptus, Fir Needle, Thyme, and Mint.
ALPHA: Sandalwood, lemongrass.
POSEIDON: bergamot, leather, anise, Lavender, Patchouli.
ALPINE FROST: Peppermint, bergamot, eucalyptus, cedarwood*
BREATHE: Peppermint with Eucalyptus*
RELAX: Lavender blooms*
WAKE ME UP: Lemony Citrus and Lemon Verbena*
RAINY DAY: Bergamot, geranium, musk.*
CITRUS SPLASH: Zesty sweet orange essential oil*
VOLCANO: Tropical fusion of pineapple, goji berry, mango*

=*contain menthol crystals

Directions for Safe Use: Unwrap and activate shower steamer with water, and place in the shower on a soap dish or away from the direct stream of water. These are crafted for shower use only, do not use these like bath bombs.