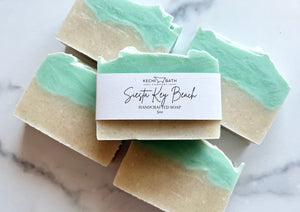 Siesta Key Beach | Artisan Soap Bar | Beach Soap
Imagine spending a gorgeous day at the beach complete with warm sand, sea spray, salt, jasmine and mandarin. This bar soap smells exactly like a day in the summer sun with sunscreen, salty air, and the gulf lapping at your toes! Our creamy bar soap lathers well and is a gentle, mild soap.
We use only the highest quality ingredients, which are not only good for your skin, but are balanced for all skin types and designed for your body and face.
| One 5oz soap measures 3.00" x 3.50" x 1-1/10" |

INGREDIENTS: Saponified oils of coconut oil, olive oil, sustainable palm oil, shea butter, castor oil, mica, crushed walnut shells, and fragrance.
____
Delivery dates are an estimate only, and don't come with a money-back guarantee. The dates are based on USPS Service Standards, your selected Ship Date and Mailed From ZIP Code, and exclude Sunday. Shipping upgrades are available.
Love the soaps
We love your product and always order or buy from you in Hillsboro .
Love it
This soap smells so good and feels so nice on my skin. Found this soap while in siesta key and the only regret I have is not buying more. Reminds me of all the happy memories in siesta and being on the beach!
Siesta Key Soap
As with all Kechi Soaps I've purchased, they all have the same excellent qualities! I personally use all Kechi soaps I've ordered except the "Siesta Key" is one that I reserve for guests of our Sarasota VRBO. They must really love this soap; as the soap is completely gone when our guests leave 💕