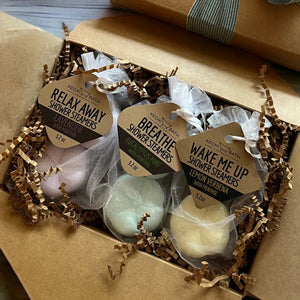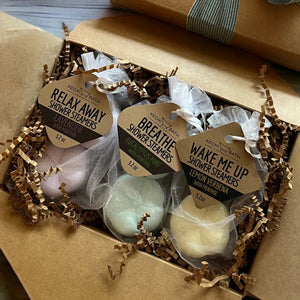 Shower Steamers Gift Set | Spa Gift Basket | Spa Gift Box | Shower Bomb Gift
Looking for an easy way to show your loved one that they are loved from far away? :) Send your mom, sister, or girlfriend one of the very best Shower Steamer Spa Gift Boxes! These adorable envelope-style boxes are filled with a selection of our bestselling shower steamers, filled with kraft shred, tissue paper, and are ready-to-go when removed from the shipping box. Consider the wrapping done! ✅

This listing is for one box of 3 Shower Bomb sets, each set containing 2 wrapped shower fizzies.  These shower bombs are made to fizz and release amazing essential oils and fragrance into the air. Each shower steamer should last for 1-2 showers.

All Natural Bath Sets includes:
❀ 3 - Aromatherapy Shower Steamers (filled with the most popular scents)

These powerful Shower Bombs come in six scents:

❀BREATHE: Minty with Eucalyptus menthol.
❀RELAX: scented like fresh Lavender blooms.
❀WAKE ME UP: Lemony Citrus and Lemon Verbena.


During check out you can mark that this is a gift and then enter your personal message to the recipient (for free) - make sure to include to/from names and check the shipping address as well.

All giftboxes will be packaged up as pictured, and shipped in a white 9''x6''x3" shipping box - the shipping box can be opened and the Spa Box is ready to gift, no wrapping necessary!

Follow our shop at www.instagram.com/kechibathco

----

Directions for Safe Use: Run hot/warm shower for a minute or two before use. This will help the fragrance cling to the moisture in the air and the fragrance will last longer. Unwrap and activate shower steamer with water, and place in the shower away from direct stream of water so that it will just be wet from the bottom. For shower use only. They are not bath bombs and contain menthol crystals which could irritate sensitive skin.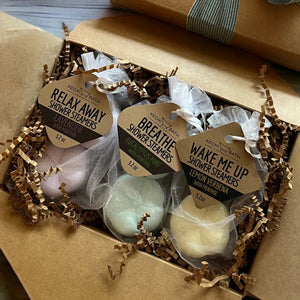 Impressive!!!
I love everything… about Kechi Bath Co!
The shower bomb, aroma filled the air and was wonderful!!
Love the soaps, too, beautifully done!
Happy.. Customer.. for sure!😊
Great Product
My family loves the shower steamers! They were a hit at Christmas and wonderful gifts.
Awesome
Shower steamers are great! Love all the different scents! Make great gifts! Thanks!!
Shower Steamer Gift Set | FREE SHIPPING | Spa Gift Basket | Spa Gift Box | Shower Bomb Gift
Shower Steamer Gift Set | FREE SHIPPING | Spa Gift Basket | Spa Gift Box | Shower Bomb Gift