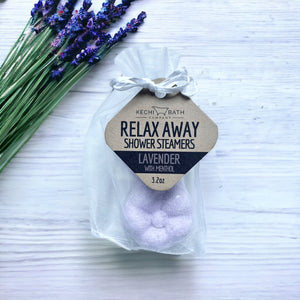 RELAX | Lavender Aromatherapy Shower Steamers with Menthol
This listing is for one gift bag of Lavender Shower Steamers, containing 2 wrapped shower steamers in a beautiful organza bag.  These shower bombs are made to fizz and release amazing essential oils and fragrance into the air. The soothing air can often times help with stress.  These 2 shower steamers together last for 2-4 showers on average, but most users can get at least one long shower from each shower bomb.
Directions for Safe Use: Run hot/warm shower for a minute or two before use. Unwrap and activate shower steamer with water, and place in the shower away from the direct stream of water so that it will just be wet from the bottom.  These are crafted for shower use only, do not use these like bath bombs. They contain menthol crystals which could irritate sensitive skin.
nice
These were very relaxing, I'll be back to buy more as gifts!