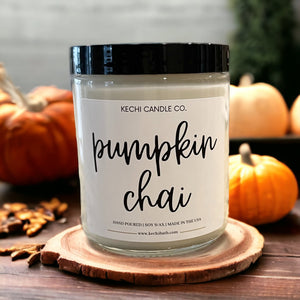 Pumpkin Chai | Handpoured Soy Wax Candle
Cozy up in your home to a wafting scent of cinnamon, cardamom, and nutmeg with our best-selling Pumpkin Chai Candle.  A true-to-life fragrance bursting with fresh pumpkin. Mouthwatering notes of vanilla, cinnamon, marshmallow, and spices complete this irresistible bakery fragrance.



This is a handpoured 100% soy candle in aneight ounce (8 oz) glass container, with an approximate burn time of 60-80hours. Poured and packaged in Kechi, KS, USA.

8oz CANDLE INFO:
• Jar Size: 8oz Net Weight | 2.75 x 2.75 x 3.5"
• Burn Time: 60+ Hours
• Wick: Cotton (Lead and Zinc Free)
• Wax: 100% Natural Soy/Coconut Blend
• Premium Fragrance Oil
• Gluten Free, Phthalate Free, Non-Toxic, Cruelty Free, Clean Fragrance
• Made in the USA 

CANDLE CARE:

• Trim Your Wick to 1/4" Before Candle is Lit Each Time
• Burn Candle So Wax Pool Reaches the Jar Edge Each Time to Prevent Wax Tunneling
• Burn Candle No More Than 4 Hours at a Time
• Keep Candle Away From Fans, Open Windows, Hot Surfaces, Children, Pets
• Never Leave a Burning Candle Unattended

Shipping Details:
All products will be shipped via the United States Postal Service within 1-3 business days unless otherwise arranged with the seller prior to purchase. Once shipped, please be mindful of the estimated arrival time and environment where candle will be delivered to prevent damage to the product(s)- for example, if candle is left outside for extended amount of time in high temperatures, candle may melt.
Great customer service and delightful smell!
Pretty packaging and arrived quickly. All the items are so well made. Thank you!