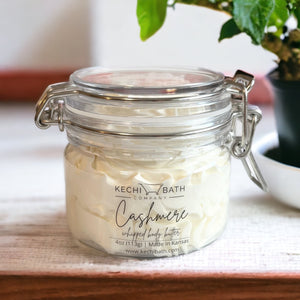 Natural Whipped Body Butter | Heal | Moisturize
Our handmade whipped body butter is formulated with ingredients that are known for giving skin a luxurious deep-moisturizing treatment that soothe and relax tightness naturally. With the rich texture of this butter, a small amount of product goes a long way. This is a precise formulation of butter and oil; very minimum re-application of the product is needed throughout the day to maintain the hydration of your skin.
Ingredients in this body butter have been known to provide relief to dry skin, and may help in healing some skin issues. It is paraben and preservative-free, made with clean fragrances and/or essential oils. 

SCENTS:

Paradise: This highly addictive scent will leave you reminiscing about your favorite beach destination. Warm pistachio, coconut cream and a touch of salted caramel come together beautifully in this scent. This fragrance was inspired by the Sol de Janeiro® scent.
Rose Gold: Scented with a delightful and soft mix of coconut, candy apple, raspberry, freesia, heliotrope, vanilla rose, and cashmere musk.

Cashmere: a mix of white freesia, pomegranate, lily, magnolia, green vines, and violet.

Lavender Dreams: Infused with the truest organic lavender EO.

Eucalyptus Mint: Infused with notes of eucalyptus, peppermint and a touch of lemongrass, it is a most refreshing blend.

Peony Petals: A soft and modern floral scent, with notes of sparkling cassis, bergamot, lemon, honey, peony, dandelion, and white musk.

Vanilla Bean: Scented like a sophisticated creamy vanilla.

Carribbean Coconut: A tropical twist of coconut milk, beach, and cool vanilla - the perfect summer escape.


---
**Local Pickup Only May-September**
*Warning/Shipping Note: If you are ordering whipped Body Butter between the months of May-mid-Sept, high temperatures can cause this product to melt in transit so please do not order until you are picking it up in person during these months.  .  While we do freeze and insulate before preparing for an order, we suggest that you bring it inside immediately.  If product does melt, it can be placed in a refrigerator to solidify, as it is still completely usable.  When purchasing, buyer will assume responsibility for the product as is).
----

Ingredients: Organic Cocoa Butter, Organic Shea Butter, Sweet Almond Oil, Avocado Oil, Vitamin E Oil, Argan Oil, fragrance and/or essential oils.
Body Butter
Love this so much! Perfect texture and beautiful scent!
Great product
I love the body butter and buy it for all my friends as it feels so light but yet is so moisturizing to the skin and they make such pretty gifts. I have not had anyone ever not like it when I give it to them. My fav scent is Cashmere as it is sweet but not too sweet. If you love Lavender, the lavender one is really nice. I also favor Paradise but I have bought many flavors of the body butter. Love all her products!
Love it!!
I purchased the Paradise Whipped Body Butter hoping that I would like the scent and I absolutely LOVE it. It smells like a cookie and makes my skin really soft, especially my hands.
Amazing
Best body butter that I have used. It keeps my skin moisturized and smooth. I love the vanilla bean scent.
My new go to moisturizer!
I'm an ER nurse. I am constantly washing my hands and taking really hot showers after a long shift. I have tried dozens of creams over the years and either the fragrances cause me nothing but headaches, or the creams would only moisturizer for a brief time. Knowing that my skin is the largest organ on my body, I value what I put on it. I have been searching for a natural, dry skin moisturizer that is good for my body and lasts on my skin (and without feeling greasy!) I am in LOVE with this body butter. I use it nightly. The all natural ingredients restores the damage of the ER that my skin goes through. It has significantly healed my cuticles and knuckles! A little bit goes a long ways. My favorite body butter scent is cashmere. I highly recommend you try some!