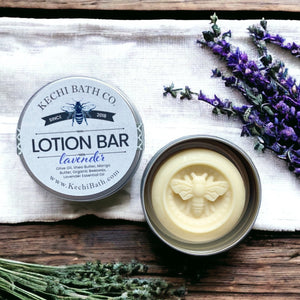 Lavender Natural Solid Lotion Bar | Heal | Moisturize
Our handmade solid lotion bars work the same as a liquid lotion, with an additive of local organic beeswax. When gently rubbed against your skin, your natural body heat warms up to allow the bar to smoothly glide across your skin.  These are scented with 40/20 Lavender Essential Oil - soothing, calming, and all-natural.
All of our lotion bar are made with rich ingredients that are gentle, skin softening, and moisturizing for your skin.  They come in a travel-friendly and ready-to-gift tin.

Ingredients: Shea Butter, Mango Butter, Olive Oil, Organic Beeswax, Essential Oil.