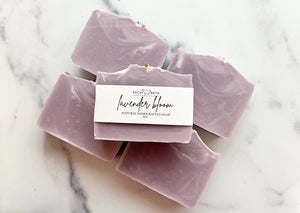 Lavender Bloom | Essential Oil Artisan Soap
This beautiful and soothing plant-based soap is scented with a lovely blend of Lavender essential oils and fragrance. It boasts a gentle lather and is made with ingredients known to gently cleanse, soften and moisturize skin.   
INGREDIENTS: organic coconut oil, olive oil, sustainable palm oil, sodium hydroxide (lye), lavender essential oil/fragrance oil blend, pink himayalan sea salt, mica. 
5 oz

HOW TO EXTEND THE LIFE OF YOUR SOAP:
1. Place soap in a well-draining dish and keep it dry between uses.
2. Slice your soap bar into smaller chunks and use only one piece at a time until needed.
no animal testing
no animal byproducts
no soy
paraben-free
gluten-free 
vegan friendly
Great hostess gift!
Very pretty and fregrant, making it a great gift!