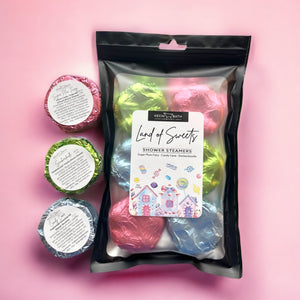 Land of Sweets Shower Steamers 6pk - Nutcracker Gift - Aromatherapy Shower Steamers
Indulge in a blissful escape to an aromatherapy land of sweets with our delightful shower steamers. Infused with the enchanting notes of peppermint candy canes, cinnamon swirls and fruity blends, these little wonders transform your shower into a refreshing oasis. Your senses will transport you to a whimsical world of sugary delights. Begin your day with a burst of fruity fragrances or unwind in the evening with a soothing shower experience, our shower steamers will turn any mundane routine into a captivating journey of sweet aromas.
These make great gifts for all ages!
*This listing is for 1- 6pack*

Included in this 6 pack are the scents listed below:

CANDY CANE: Crisp Peppermint Essential Oil.
SUGAR PLUM FAIRY: Fruity combo of sweet orange, apple, geranium,peach, and lemon.
SNICKERDOODLE: Cinnamon Leaf and sweetened Vanilla Bean Oil.

Directions for Safe Use: Unwrap and activate shower steamer with water, and place in the shower on a soap dish or away from the direct stream of water. These are crafted for shower use only, do not use these like bath bombs.