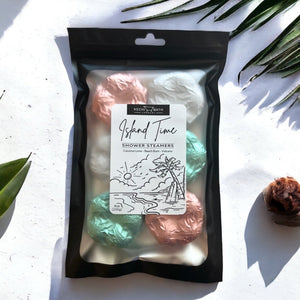 Island Time Shower Steamers 6pk | Tropical Aromatherapy Shower Steamers
Introducing our NEW Island Time Shower Steamers Pack - these shower steamers are the perfect beach-themed gift, summer birthday gift for a friend or mom, or ocean-themed gift! These steamers are made from a refreshing tropical trio of 3 scents (1.3oz each) - with 6 steamers per pack. These individually wrapped and labeled shower bombs release amazing aromatherapy into the steam.
BEACH BUM: Intoxicating sandalwood, coconut cream, vanilla and musk.
COCONUT LIME: Lime, sweet orange, and coconut.
CITRUS VOLCANO: Tropical fusion of citrus, pineapple, goji berry and mango.
Directions for Safe Use: Run hot/warm shower for a minute or two before use. Unwrap and activate shower steamer with water, and place in the shower away from the direct stream of water so that it will just be wet from the bottom.  These are crafted for shower use only, do not use these like bath bombs. They contain menthol crystals which could irritate sensitive skin.