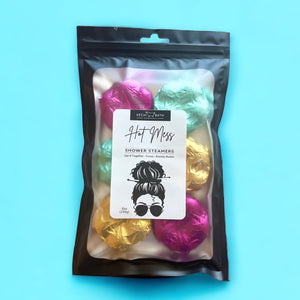 HOT MESS Shower Steamers™ 6pk - Aromatherapy Shower Steamers
 Introducing our new HOT MESS Shower Steamers™ Pack, a refreshing trio of 3 scents (1.3oz each). These individually wrapped and labeled shower bombs release amazing aromatherapy into the steam. These shower steamers are sure to improve someone's day ;p - and would make a great gift for a friend, sister, girlfriend, teacher, or mom gift!

Get it Together: Pink Grapefruit and Mint
Anxiety Buster: Lavender, Ylang Ylang, Sweet Orange
Focus: Peppermint Eucalyptus

Directions for Safe Use: Unwrap and activate shower steamer with water, and place in the shower away from the direct stream of water on a shelf or floor.

For large quantities, special fragrances or bulk orders, please message us.
----
This product is not intended to treat or cure any medical condition. If you have allergies or sensitive skin, or are pregnant, use the list of ingredients on the label and consult your physician.
Awesome six pack
I enjoyed the different flavors. Really helped wake me up in my morning shower