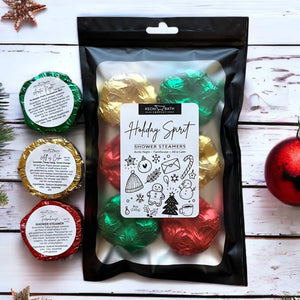 Holiday Spirit Shower Steamers 6pk - Aromatherapy Shower Steamers
Our Christmas Shower Steamers are back! These individually wrapped and labeled shower bombs release amazing aromatherapy into the steam and will make your bathroom feel like a spa. Shower steamers are a great way to add a little aromatherapy to your daily routine and help promote relaxation and stress relief. These make great gifts for all ages!

*This listing is for 1- 6pack*

Included in this 6 pack are the scents listed below:

FARMHOUSE: Apple, sweet orange, clove, and cinnamon.
ARCTIC NIGHT: Eucalyptus, Fir Needle, Thyme, and Mint.
ALL IS CALM: Lavender, Sweet Orange, YlangYlang.
=*contain menthol crystals, do not use on skin.

Directions for Safe Use: Unwrap and activate shower steamer with water, and place in the shower on a soap dish or away from the direct stream of water. These are crafted for shower use only, do not use these like bath bombs.