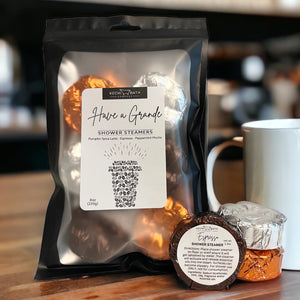 HAVE A GRANDE Coffee Shower Steamers™ 6pk | Coffee Lover Gift
Introducing - Have a Grande Shower Steamers™! These coffee shower bombs are designed for the craft coffee lover. Whenever you need a pick-me-up, you can reach for these instead of another cup that might keep you awake at night! These individually wrapped and labeled shower bombs release amazing aromatherapy into the steam and make great gifts for all ages.

| 1- 6pack |

Included in this 6 pack are the scents listed below:
PUMPKIN SPICE LATTE: Your favorite cozy PSL with spiced pumpkin, creamy vanilla, and coffee.
PEPPERMINT MOCHA: Roasted Espresso beans and peppermint essential oil.
ESPRESSO: Italian espresso bean oil with a hint of creamy vanilla.

Directions for Safe Use: Unwrap and activate shower steamer with water, and place in the shower on a soap dish or away from the direct stream of water. These are crafted for shower use only, do not use these like bath bombs.