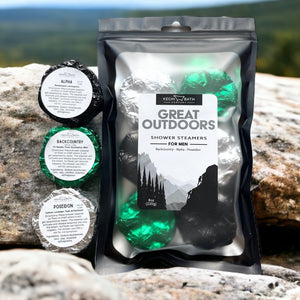 GREAT OUTDOORS Shower Steamers™ 6pk | Shower Steamers for Men
These individually wrapped and labeled shower steamers release amazing aromatherapy into the steam - they make a great gift for the guy who has everything! Shower Bombs are a great way to promote relaxation and enhance your shower experience.

This listing is for 6 - 1.3oz steamers (2 of each).

Each Bag includes:

BACKCOUNTRY: Eucalyptus, Fir Needle, Thyme, and Mint.
ALPHA: Sandalwood, lemongrass, musk.
POSEIDON - Bergamot, Lavender, Patchouli, leather, anise.

Directions for Safe Use: Unwrap and activate shower steamer with water, and place in the shower away from the direct stream of water on a shelf or floor. These are crafted for shower use ONLY, do not use these like bath bombs.

Great outdoors!
Nice thing about these is they are not just for men! Love these scents!