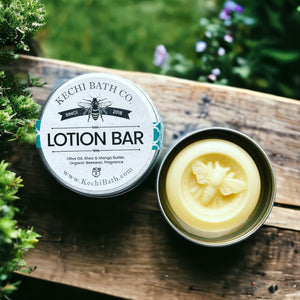 Natural Solid Lotion Bar | Heal | Moisturize
Our handmade solid lotion bars work the same as a liquid lotion, with an additive of local organic beeswax. When gently rubbed against your skin, your natural body heat warms up to allow the bar to smoothly glide across your skin.  These are scented with a soft honey-almond scent.
The lotion bar is made with rich ingredients that are gentle, skin softening, and moisturizing for your skin.  It comes in a travel-friendly and ready-to-gift tin.

Ingredients: Shea Butter, Mango Butter, Olive Oil, Organic Beeswax, Fragrance.
Lotion bar
I love the Kechi Bath Co. lotion bar. When I use the lotion Bar, I make sure to concentrate on my cuticles it's not messy like ointments, lotions etc. so I can use it anytime. Another five star product from Kechi Bath Co.
Absolutely in Love
I never tried a lotion bar and now I'm sold on it. My hands feel nourished without feeling overly greasy and sticky. The lotion bar melts as your body warms it. It goes on smoothly and the gentle scent of honey feels healthy and soothing.