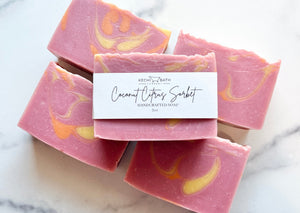 Coconut Citrus Sorbet | Artisan Soap Bar | Tropical Soap
Imagine yourself drinking up a tropical drink seaside with the palm trees shading you from above. This bar soap smells exactly like a day on a tropical island with notes of lemon, lime, coconut milk, and vanilla. Our creamy bar soap lathers well and is a gentle, mild soap.
We use only the highest quality ingredients, which are not only good for your skin, but are balanced for all skin types and designed for your body and face.
*Since we work in small batches, there will be slight variations in shades of color or design.
| One 5oz soap measures 3.00" x 3.50" x 1-1/10" |

INGREDIENTS: Saponified oils of coconut oil, olive oil, sustainable palm oil, shea butter, castor oil, natural mineral colorants, and fragrance.
____
Delivery dates are an estimate only, and don't come with a money-back guarantee. The dates are based on USPS Service Standards, your selected Ship Date and Mailed From ZIP Code, and exclude Sunday. Shipping upgrades are available.