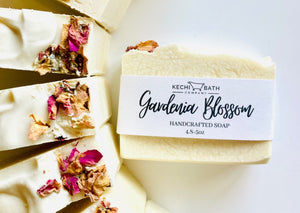 Gardenia Blossom Soap | Artisan Soap
This gardenia soap smells just like the real thing - a touch of rose and orchid make it a bit more complex.  It boasts a creamy lather and is made with ingredients known to gently cleanse, soften and moisturize skin. This soap is topped with golden mica swirled and rose petals.

INGREDIENTS: Saponified oils of coconut oil, olive oil, sustainable palm oil, shea butter, castor oil, titanium dioxide, rose petals, and fragrance.

SIZE: 5 oz

HOW TO EXTEND THE LIFE OF YOUR SOAP:
1. Place soap in a well-draining dish and keep it dry between uses. Slice your soap bar into smaller chunks and use only one piece at a time until needed.
no animal testing
no animal byproducts
no soy
paraben-free
gluten-free 
vegan friendly