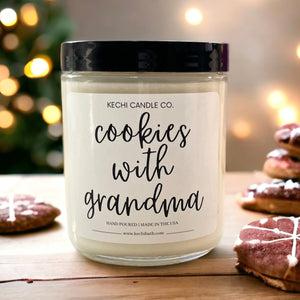 Cookies With Grandma | Handpoured Soy Wax Candle
Introducing our delightful "Cookies With Grandma" Candle, carefully handcrafted and thoughtfully scented with the warm aroma of nutmeg, cinnamon, and caramel. With its charming design and inviting fragrance, this candle is perfect for creating a cozy atmosphere during the holiday season. Infuse your home with the nostalgic scent of freshly baked gingerbread, bringing back cherished memories and filling the air with a comforting ambiance. Whether as a charming addition to your festive decorations or a unique gift for a loved one, our Gingerbread House Candle is sure to add a touch of whimsy and joy to any space. Light this candle and relish in the sweet delight of the holiday season.
This is a handpoured 100% soy candle in an eight ounce (8 oz) glass container, with an approximate burn time of 60-80hours.  Poured and packaged in Kechi, KS, USA.


8oz CANDLE INFO:
• Jar Size: 8oz Net Weight | 2.75 x 2.75 x 3.5"
• Burn Time: 60+ Hours
• Wick: Cotton (Lead and Zinc Free)
• Wax: 100% Natural Soy/Coconut Blend
• Premium Fragrance Oil
• Gluten Free, Phthalate Free, Non-Toxic, Cruelty Free, Clean Fragrance
• Made in the USA | Hand-poured in Kechi, KS

CANDLE CARE:

• Trim Your Wick to 1/4" Before Candle is Lit Each Time
• Burn Candle So Wax Pool Reaches the Jar Edge Each Time to Prevent Wax Tunneling
• Burn Candle No More Than 4 Hours at a Time
• Keep Candle Away From Fans, Open Windows, Hot Surfaces, Children, Pets
• Never Leave a Burning Candle Unattended

Shipping Details:
All products will be shipped via the United States Postal Service within 1-3 business days unless otherwise arranged with the seller prior to purchase. Once shipped, please be mindful of the estimated arrival time and environment where candle will be delivered to prevent damage to the product(s)- for example, if candle is left outside for extended amount of time in high temperatures, candle may melt.