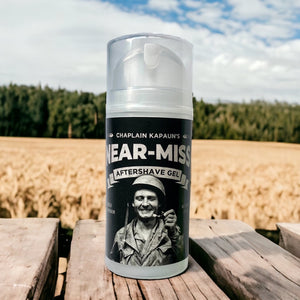 Chaplain Kapaun's Near-Miss Aftershave Gel | All Natural | Hydrating | Gift for Him
Do you know the story of Fr. Emil Kapaun and the 'near miss'? His corn cob pipe was shot to bits WHILE it clenched in his teeth during combat. Here's to hoping your shaving experience will be close - but not that close!

This soothing aftershave gel comes in a 4oz. airless pump bottle. Made with luxurious skin-softening and moisturizing ingredients, it has a lovely cooling affect after a clean shave.
Scented with a mix of bergamot, cool mint, lavender, green accord, sandalwood, cedarwood, amber, and musk. Scented just like walking into a barbershop.

3.8 oz. |

Ingredients:
Water, Aloe, Barbadensis Leaf Juice, Glycerin, Carbomer, Triethanolamine, Babassu Oil, Argan Oil, Calendula Extract, Sunflower Extract, Aloe Extract, Irish Moss Extract, Marshmallow Root Extract, Iodopropynyl Butylcarbamate, Diazolidinyl Urea, Fragrance.

Delivery dates are an estimate only, and don't come with a money-back guarantee. The dates are based on USPS Service Standards, your selected Ship Date and Mailed From ZIP Code, and exclude Sunday. Shipping upgrades are available.


Wonderful product and amazing service!
We have ordered this product multiple times, and it is always a hit! Wonderful and friendly customer service and quick shipping are much appreciated! We will definitely be ordering again.
Great Product!
After years of searching for the perfect aftershave, my wife finally found it — and locally! The fact that it's named for Fr. Emil Kapaun and bears a historic picture of the pipe-smoking Chaplain is what intrigued us, but the product itself is impressive, as well. It doesn't sting, yet still soothes, hydrates and provides a fresh aroma following a close shave!