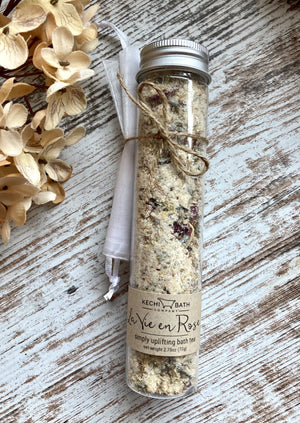 La Vie En Rose Bath Salts | Aromatherapy Bath Tea Blend | Bridesmaid gift | Christmas Stocking Stuffer
These bath tea salts are a great way to unwind. Our bath teas are handmade with the finest ingredients. These Bath Tea Salts come in a 110ml reusable plastic test tube, along with a reusable organza bag. Simply pour the bath tea into the bag, tie it shut, drop into your bath and enjoy!  Bath Tea Salts make excellent wedding, bridesmaid, corporate event favors, or shower gifts.
3 oz 

Other Blends Available: 
| Secret Garden Blend |
A relaxing blend of florals, honey, chamomile and lavender.
| Serenity Blend |
Invigorating mint-eucalyptus blend.
Ingredients: Spearmint Leaf, Eucalyptus Leaf, Rosemary Leaf, Fennel Seeds, Juniper Berries, Peppermint Leaf, buttermilk powder, colloidal oatmeal, fragrance.